Workshops & Events
Preventing and Healing Compassion Fatigue:
Special Edition for Animal Welfare Professionals & Activists—The People with Boots on the Ground Helping Animals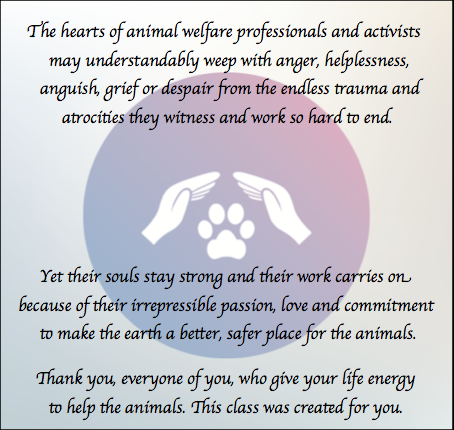 LENGTH:

12 hours (five sessions ranging from 2 - 2.5 hours each)

DATES OFFERED:


THIS CLASS IS NOW CLOSED.
If you would like to be notifed of future dates, pleaseThis email address is being protected from spambots. You need JavaScript enabled to view it..

You may want to take the original version of this class, available on demand: http://animalsinourhearts.com/workshops-events/descriptions/compassion-fatigue.html



COST:

$198

REGISTER/PURCHASE:


Includes:
• Five sessions of live teleclass
• An extensive handout package, approximately 200 pages
• Digital recordings of five class sessions
• MP3 Guided Meditation to Soothe Compassion Fatigue

INSTRUCTORS:

Teresa Wagner, M.S. Founder of the Animal Loss and Grief Support Certification Program



WHO SHOULD ATTEND:

Animal welfare professionals, volunteers and animal activists who are exposed to the trauma of animals who want to become more familiar with ways to cope with and heal from the stress and overwhelm of this work.





TESTIMONIALS:
CONTENT AND PURPOSE: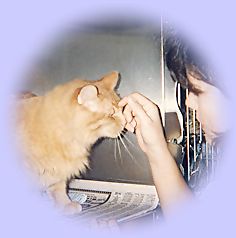 Feeling love for animals is easy. Acting on a strong and genuine desire to help animals is commendable. Feeling our own pain in response to their suffering, however, can be overwhelming. When we love animals deeply, when we are sensitive to their pain and are exposed to their suffering we can become depleted. Hearing about and witnessing their stress and trauma can create very real physical, emotional or spiritual fatigue. Compassion can hurt.
Compassion fatigue is an issue of importance for all people who have devoted their lives, their careers or their volunteer time to helping animals: Those who work in animal shelters, humane investigations, rescue, sanctuary and advocacy organizations; those who are deployed to disaster areas to rescue animals; those who work on Sea Shepherd ships or are on-shore volunteers; those who do undercover work in factory farms; those who spend hours every day carrying out important activism at their computers and those who work tirelessly in any animal rights and animal welfare roles.
For those who work directly to help animals, who work tirelessly to save their lives and make their lives safer and better, and those who support animals through their grief and trauma, the probability of experiencing compassion fatigue is high. From research in the traumatology field we've learned that people who are involved with trauma victims are at high risk of experiencing secondary traumatic stress, commonly called compassion fatigue. Compassion fatigue is the unique form of stress experienced only by people helping, treating or supporting trauma victims. It is different from stress and burnout in that its cause is always related to caring and exposure to others' crisis.




It takes dedicated, strong, empathic, compassionate and loving people to endure the on-going exposure to the stress and pain of the animals they serve. These dedicated, strong, empathic and loving people deserve support. They deserve acknowledgement, understanding, comfort, nurturing, and tools for coping and rejuvenation to continue their work and lead healthy lives.

To heal compassion fatigue, we must learn how to continually acknowledge and process the strong and overwhelming feelings that are a natural part of this work, and to give ourselves the same dedication, love, compassion and care we give the animals. We must learn to practice not only everyday coping techniques, but to employ long term healing strategies as well to be sure that we have not stuffed or denied the understandable pain we feel from all the horror inflicted onto animals. We cannot serve the animals we love so dearly if we are chronically fatigued, stressed and burned out. If we are to continue our work giving the best that we have to give and if we are to enjoy our lives, then caring for ourselves must be as important as caring for the animals we serve.


In this workshop, the following content is covered over five sessions:
Session One: Introduction, Meaning and Self-Assessments

• Acknowledgement of the true heros of the animal rescue world
• The value and necessity of self-compassion—a way of life versus a quick-fix pill for 

compassion fatigue
• Exploring, acknowledging and celebrating the meaning, purpose, rewards and contributions
of your role
• Understanding the terms:
Stress, Burnout, Trauma, PTSD, Compassion Fatigue (aka Secondary Traumatic Stress,
Trauma Exposure Response, Vicarious Traumatization) and Trauma Stewardship
• Symptoms and Factors impacting serverity of Compassion Fatigue
• Self-Assessments:
Increasing my awareness of the scope and symptoms of compassion fatigue in my life
• Resources for further learning
Session Two: Resiliency Skills, Beliefs and Choices for Coping and Healing

• The "Critical Ten" needed to prevent, cope with and heal compassion fatigue

• Understanding the difference between coping and healing and how they are both necessary
• Stressors unique to the animal welfare and animal activist roles
• The need for boundaries on time and energy to prevent and manage burnout and compassion fatigue
• The need for energetic boundaries of protection to prevent taking in the pain of traumatized animals (and/or peers)

Sessions Three: Coping With and Healing
 Intense & Oerwhelming Feelings
• Myths, facts and the golden rule of coping with and healing from Compassion Fatigue
• Intense and ovrewhelming emotions need acceptance, empathy, expression & release
• Understanding the energies and healing requirements of strong, intense feelings
• Core tools to hep us cope with and heal strong, intense feelings
• Understanding and healing guilt
• Giving ourselves time to grieve
• Using the mind in service of the heart
• The Emotional Freedom Technique (EFT), aka tapping
Session Four: Coping with and Healing Intense & Overwhelming Feelings
• Understanding the nature of trauma and what we need to heal from it
• Personal Trauma History Graph
• Anger, Hate and Forgiveness: Three of the most misunderstood and mismanaged emotions in our culture
• Anger won't kill you but pretending you don't have it might
• Forgiving without tending to our own traumatic wounds is a dangerous form of denial
• Anguish and Despair: Coping with acute, overwhelming pain both short and long term

Session Five: Additional Resiliency Tools to Cope and Heal
• Using art therapy to build clarity and to express feelings to cope and heal
• The power of humor to help us cope
• Building and maintaining a team of support
• The intentional use of music to cope and heal
• Pacing, respite and balance
• Flower essences to prevent, cope with and heal compassion fatigue
• The healing power of talking with a therapist or counselor
• Exploring and practicing what brings us inner peace
• A guided meditation to ease the tension of compassion fatigue


TESTIMONIALS:
Save
Save
Save
Save
Save
Save
Save
Save
Save
Save
Save
Save
Save
Save
Save
Save
Save
Save
Save
Save
Save
Save
Save
Save
Save
Save
Save
Save
Save
Save
Save