Flower Essences for Animals and People
How the Formula Was Created and Why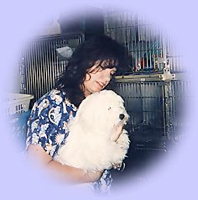 As a flower essence practitioner and animal communicator, I've had the opportunity and privilege to talk with thousands of animals, many of whom have been traumatized. In my private practice I recommend specific flowers essences to their people for each animals' unique situation and emotional state. But as we know, not every animal in a rescue or trauma situation has a permanent home or person to reach out for such resources. For years, I had nagging thoughts about wanting to provide flower essence support to the larger numbers of animals in rescue situations (every year, millions are in pre and post adoption) who do not have the luxury of an animal communicator or a flower essence practitioner to assess their specific needs and make a specialized dosage bottle for them. I began to play with the idea of creating a broad based formula that would address the unique needs of animals in rescue situations.
In communicating with animals over many years it has been my experience that their emotional lives—in depth, range, intensity-- are just like ours as humans, including both the observable symptoms and inner struggles of post traumatic stress. They experience the same grief, confusion, heartache and trauma that we do when abandoned, abused, losing loved ones, or are "traded in for a new model." Though I have recommended the Post Trauma Stabilizer formula from FES from the time it was developed, and still do for humans, it does not include essences for some of the predictable, common issues for animals in rescue. The Animal Relief Formula was created (originally called the Animal Rescue Formula) to assist in healing traumas unique to companion animals in our culture which, tragically, are common occurrences for millions of animals every day in the United States:
Animals who have been abandoned by their owners at our community's shelters, when it became challenging or too inconvenient to keep them
Animals who have been passed from one home or family to another, with no one committed to loving and caring for them for their lifetime
Animals who have been physically abused or tortured by humans
Animals whose owners have died, and now find themselves transported to new, unfamiliar surroundings without the person who loved and cared for them and whom they loved
Animals who have been abandoned by their owners on the streets and in the countryside to fend for themselves (or are the offspring of abandoned animals such as feral cats), and now find themselves in a shelter, foster home or permanent home, wondering where they are and what may happen next.
Animals who have been exploited as performing, show or breeding vehicles, who may not even live with their owners, and are valued exclusively or predominantly for their perfection of conformation or ability to perform in precise ways a human wishes them to perform--to win money, prizes or championships, to reproduce, to serve the financial profit or ego enhancement of their human owners--and are then sold, euthanized, or abandoned at rescue facilities, or otherwise discarded when what they produce or how they perform is no longer acceptable to their current owner.
Animals in rescue situations such as the above are very near and dear to my heart for a number of professional and personal reasons.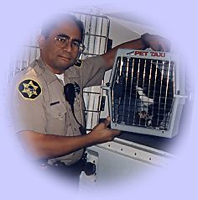 From 1994 to 2003, I provided Compassion Fatigue workshops for workers in dozens of shelters throughout the United States and for the Humane Society of the United States and the American Humane Association. It was when I began this work that I was first educated about the tragedy of overpopulation and the overwhelming statistics of unwanted animals being euthanized in the U.S. Working closely with the often overworked, underpaid and dedicated animal welfare professionals inspired me to volunteer at my local SPCA in the kennels and the euthanasia room to provide support to both staff and the animals. It's an understatement to say that rescue animals need our help. Providing them with flower essences is an inexpensive, natural, easy yet powerful way to support them.
On a personal level, my own cats were rescued by my local SPCA, heroically in one case, saved from the roof of a home during a major flood, and the other as a starving cat on the streets. It took years for one of them to fully trust touch. Her story of trauma is tragic and she may never have learned to trust or be held without the help of the flower essences. Sometimes, even being loved is not enough. The soul at times needs to summon great courage to learn to trust and take in love. The flower essences are a tremendous gift in such situations.
Anyone intimately familiar with the experience of trauma knows of its lasting, insidious symptoms, how it effects everyday life and relationships, and the painstaking inner work it can take to re-learn trust and re-claim wholeness in a world that has been imprinted in early life as unsafe. This process is the same for animals and people. There is no difference. This Animal Rescue Formula was created to bring the animals a gentle, powerful and inexpensive form of help.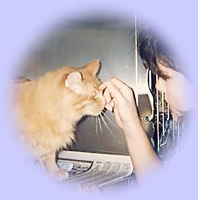 I'd like to thank Jann Garrity and Patricia Kaminski at FES for their support in the development of this formula, for the donations of essences FES made to get it started, and for making it available to the public. You are great friends of the animals! With great love I thank the flowers themselves for offering us their gentle and powerful healing energy to help the animals of the earth and the overlighting deva of flower essences for her inspiration and guidance in creating the formula.
Finally, I thank traumatized animals I've had the privilege of working with for allowing me to glimpse your profound courage to once again open your hearts to human love. You are my inspiration for the greatness of love and the infinite possibilities for healing. You, and the people of animal shelters and rescue groups everywhere who help you, are my heroes. I love you.
May all the companion animals on the earth find the lifelong love and care they deserve.
And may all the wild animals of the earth have the opportunity to live their natural lives in peace and unharmed by humans.