Animal Communication
How To Get The Most Out of Your Session

1. Clarify your goals: Prior to your session, think through what you most want to accomplish from it. What might you want to learn from your animal, tell them, hear from them, etc.? This process can help you spend your session time as efficiently and effectively as possible. And awareness of your goals helps me be sure to listen for subtle cues from your animals about each of your concerns.
2. Multiple animals: If you want to speak with more than one animal, This email address is being protected from spambots. You need JavaScript enabled to view it. the following information on each animal before your session. This will help ensure that you will spend more of your paid session time actually talking to your animals and less time describing them and their issues:
Name
Species and breed (e.g. cat, domestic shorthair)
Color (e.g. gray with white paws, chin and chest)
Gender and whether spayed or neutered
Age and how long you have lived together (e.g. she's 9 years old, have since she's two)
How you came to live together (e.g. adopted from shelter)
3. Photos: Though I very much enjoy looking at their pictures, I do not need a photo of your animal to make the telepathic connection. However, when you have more than two animals of the same breed or similar appearance, photos can help me focus more quickly on "who is who." If this is your situation, it can help to send photos. Photos of any of your animals can be sent by email in jpg form to This email address is being protected from spambots. You need JavaScript enabled to view it.. If you send actual photographs through postal mail and would like them returned, please enclose a self addressed stamped envelope. Otherwise, I will keep them in your file.
4. Keep an open heart and open mind: . . . to what you may hear from your animal, and try to remain unattached to the outcome.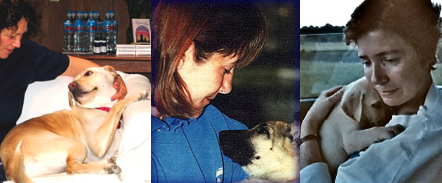 If you are in need of grief support: Consider reaching out before or beyond your scheduled animal communication session to explore the grief support resources available to help you heal.
Please note that I do not do "proof" readings. . .in which the client asks a series of questions demanding "proof" that I am connected to their animal. It is understandable that people who are not yet personally experienced in gathering intuitvely derived information within themselves may still feel a need for external proof that animal communication is real or even possible. The need to ask information validation questions in a consultation is an indication that a person does not yet trust intuitively derived information and is asking someone outside of themselves to make that leap for them. Though I respect where anyone may be on their path in understanding animal communication, making the leap of faith for others by jumping through hoops of "proof questions" is not work that interests me.
That doesn't seem to support the learning or growth process for anyone involved. It also tends to frustrate animals— who are usually eager to talk— when their person spends the consultation time asking questions to which both the person and the animal already have the answer.
What I do like to do is help people learn to make that leap of faith regarding trust in intuitively derived information for themselves through workshops. There, we all learn directly, for ourselves, what it is like to ask for and receive information from animals.
So if you are in the place of still needing "proof" via asking validation questions in an animal communication session, I would not be the appropriate animal communication consultant for you. To read more about this issue of proof in animal communication sessions, please see the article The Issue of Guaranteed Outcomes and Proof in Animal Communication.