Pet Loss Grief Support
This is an extensive list of resources. We are providing this menu to help you navigate to exactly the type of help and support you need.
Finding an Animal Communicator
Teresa Wagner, who has been facilitating grief support workshops and counseling since 1986, and animal communication consultations since 1991.
Finding and Choosing a Counselor
In almost any community, it is fairly easy to find a counselor. What's more important, however, is to choose a counselor based on criteria valued by you. The values and philosophies of counselors and how they treat us are as important as their training and credentials. Before committing to a session with a counselor, ask if you can have ten or fifteen minutes of his or her time to discuss some of the following issues to help you determine if working together is an appropriate fit for both of you. If you are in a place with your grief process that makes it difficult for you to do this, perhaps a close friend or family member can handle this screening process for you.
Characteristics to look for in a grief counselor when you have lost your animal loved one:
Accepts (better yet, shares) your values about animals
There are many mental health professionals who believe loving an animal as an equal to a human is not healthy. There are even some who believe the reason we grieve so deeply is because we love our animals "too much" and should be spending our life energy searching for human love, not "squandering" it on animals. If you love animals on an equal par with humans, you don't belong with a counselor with these beliefs. Before scheduling and paying for a counseling session, ask a potential counselor to briefly describe to you his or her values about the human-animal bond, and their opinion about humans loving animals as much or more than humans. You will learn a great deal in just a few minutes about whether your values about animals are likely to be supported and honored in a counseling relationship with this person.

Accepts and is comfortable with your spiritual beliefs and any healing activities you may engage in other than traditional counseling
It's extremely important that we not feel judged in a counseling relationship. It should be a place where we feel safe and completely accepted for all of who we are, for all of what we believe and do. Whether we believe in the Rainbow Bridge or reincarnation, whether we are Christian, Buddhist, Hindu, Jewish or agnostic should not matter to our counselor. But the best of counselors have biases, limitations and preferences about what they believe helps the healing process. Some traditionally trained counselors are very open to and even include the healing arts in their work. Others discount or even belittle holistic healing activities such as flower essences, animal communication, energy healing, or beliefs in past lives. If your spiritual beliefs or practices are important to you, especially if they are an integral part of your relationship with your animal or your loss, briefly describe these to a potential counselor and ask him or her to comment. You need to know that your paradigms of healing and spirituality will be accepted and honored by a counselor you pay to help you.

Professional training in grief support
In the counseling field, working with people who are grieving is a specialty. If you were looking for help with an addiction, you would want someone with experience and training in chemical dependency. If you were looking for help with a troubled relationship, you would want a counselor with specialized training and experience in relationship counseling. It is the same with grief. In your screening conversation, ask the counselor about their training and experiences with loss and grief, especially as it relates to losing animals.

Professional training in counseling
Not all people or organizations who provide pet loss services have adequate training or education in counseling—which means they will likely truly understand and care about your loss of an animal, but may not have the professional skills to actually help you through your grief process. Ask a potential counselor about their education and training in counseling: Was counseling their major in undergraduate or graduate school? Did they take training programs in counseling apart from univeresity training? If so, was it a brief five to ten hour course or an in-depth program of several courses and more than 40 hours of training?
Recommended therapists for grief counseling for animal loss who will work by telephone:
The following therapists are recommended wholeheartedly for their warmth, lovingkindness, wisdom and first hand experience of loving and losing animals, and expertise a therapists. They meet the criteria of therapists who accept animals as equal family members, accept diverse spiritual beliefs about death and afterlife for animals, and support holistic healing choices. They are available to work with you by phone. Please contact them directly for their rates.
Sherry Nelson, LCSW 847-864-3730 This email address is being protected from spambots. You need JavaScript enabled to view it. http://innerconnections.cc/
Deborah Antinori, MA 908-766-0110 This email address is being protected from spambots. You need JavaScript enabled to view it.
Teresa Wagner, MS 831-236-4080 http://animalsinourhearts.com/consultations/types-of-consultations/grief-counseling.html

You may want to get a referral from Teresa for a grief support practitioner trained in her Animal Loss and Grief Support Certification Program.
Other Places to find a grief counselor:
Finding an Energy Healer
Sometimes, traditional counseling is precisely what we need ~ the help of a trained professional in psychology to help us understand and sort through the emotional issues of our loss. Other times psychological insight may not be enough to help us move through our healing. We may need a deeper level of spiritual support and healing. There are both ancient and contemporary healing energy techniques available to help us balance and align our minds, bodies and spirits when in distress from grief or other trauma.
Three energy healers whose work I know personally, highly recommend, and are available to provide long distance healing with you are:
Nobuyo Ishida
Divine Energy Healer who works with the energy of Quan Yin; she has healed many, many physical conditions of my animals and clients' animals, as well as those of people.
Though the in person work of all three of these healers is exraordinary, it is just as powerful long distance.
Jeanine Sande
Reiki Master and graduate of Rosalyn Bruyere's extensive training program, Jeanine also offers a comprehensive energy medicine certificate program. Jeanine is a seasoned master of helping heal the energy of the physical body as it relates to our emotional issues. She has personally helped me, and many I have referred to her, in profound ways.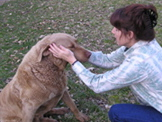 Lori Wright
Reiki Master and Animal Communicator,is an Associate in my animal communication practice. Lori has a gentle, loving yet powerful ability to offer healing energy, and she is devoted to helping the animals of the world. Our clients are very pleased with the help her Reiki work has given them.
To find an energy healing practitioner near you geographically for in person work, or to learn more about this, explore the links below:
Finding a Support Group
Finding a Grief Support Telephone Hotline