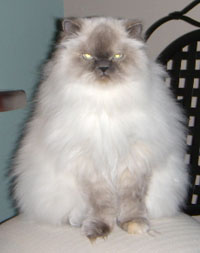 Keisha (which means the favored one) was truly the "kitty of my heart". She came to me when she and her sister Portia were only 10 weeks. They are both beautiful and I loved them both dearly, but Keisha was special. She bequeathed to me many many gifts and awakened in me the true essence of my heart and all the wonderful gifts it contains: joy, love, beauty, sweetness, and pain and sorrow that comes with that loss.


Keisha's sweetness was so profound, that I used to think and say that God took all of the sweetness in this Universe and poured it into that exquisite beautiful 8 lb body that was Keisha. This allowed me to see that this gift was already inside of me and that her presence unclothed it.

She brought to me so much joy – I would walk into the house after a 12-14 hour day feeling exhausted and there she would be waiting at the door meowing in that sweet way that only she could, clamoring for attention and telling me about her day wanting to get on with our "routine" of brushing, "pet me"s, and treats. This routine brought me as much joy as it did she and all the while I believed I was doing it for Keisha.

And the most cherished gift of unconditional love was always there. Keisha loved to be loved on her terms. Not that we humans are so different. She would jump onto the bed every morning and come and lay on my chest and purr that magical sound, which so made me smile. One day in particular as she was laying on my chest, I looked into those beautiful blue eyes and could truly see that sweet, sweet soul. I was moved beyond what I imagined I ever would experience with an animal. What a gift for my heart.

Keisha started her life being timid and fragile, which led me to start exploring different modalities of healing for her. At this time I did not realize that her sensitivities were a response to what was going on in my own heart and being. I had my own little barometer mirroring to me what my heart needed and was calling out for.

This led me to studying and practicing different energy healing modalities, as well as animal communication. This process reawakened in my heart compassion, understanding and love for my animals, as well as other animals and the a true bonus of is I have brought these gifts out into the world in all of my relationships and interactions.

The pain of losing Keisha was greater than what I could have imagined and yet, I would not have traded one moment for all the joy, love, beauty and sweetness that she brought to me.

With these gifts and realization of the joy and sweetness that animals bring, I am now getting ready to be a "cat socializer" at the Humane Society. As I am interacting with all of these beautiful animals, Keisha's presence and her gifts will be there working thru me.

Keisha was truly the "Kitty of My Heart", she showed me the way home.

SHE WALKED INTO A ROOM, AND MY HEART SMILED
SHE MEOWED WITH HER SWEET VOICE AND MY HEART LIFTED
SHE LAID HER HEAD ON MY CHEST AND MY HEART HEALED

Keisha graced me with her sweet presence for 13 years and I am so grateful. Portia and I miss her deeply and I know that her sweet heart is deeply tucked into the essence of my heart.


Note from Teresa:
Keisha Cusano the cat, with whom I first began talking many years ago along, and her sister Portia and her human Diane have impacted me deeply. Diane's unwavering devotion to her cats and her commitment to their care, whatever it took, has always been impressive. And the wisdom of both cats sometimes took my breath away.

Keisha's empathic sensitivity, her soft, kind wisdom, her commitment to her own healing and growth-layers and layers of it over time--and her devotion to her cat sister Portia and her human mother both touched me and taught me. She is deeply mourned and missed on the earth. May her spirit be blessed with grace and love.