The Next Place: What is the End of Life on Earth?
Description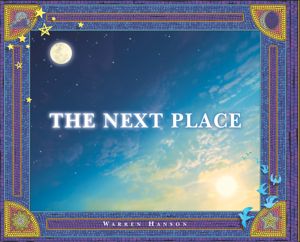 So many of us want to know:
What really happens after the end of a life on earth? What is the afterlife like for my loved ones who've gone before me?

When we've lost a loved one, it can certainly help our healing process to share our experiences with others and to hear stories about others' losses and experiences from books, workshops, teleclasses, support groups, etc. These resources can help us understand and normalize our own experience and assist in our coping and healing. And yet sometimes, we may be just too tired to read a detailed book, to take in more new information, or even to talk with someone about our loss. Sometimes, we may just want an immediate sense of comfort and hope.

That is what this very special book by Warren Hanson provides. Without imposing any specific religious or spiritual beliefs, this poetic and exquisitely illustrated book describes the afterlife in a soothing and inspiring way. Many of the words in the book closely reflect the stories the animals have told me over the years about their experiences of death and the other side.

It is book of tremendous visual, emotional and spiritual comfort. The gorgeous images and words offer a peaceful sense of the answer to that age old question: what is the end of life on earth like?

One of my favorite passages:
"I'll be embraced by all the family and friends I've ever known. The circle of our spirits will shine brighter than the sun. All the love and laughter will go with me. They will make my spirit glow. And that light will shine forever in the next place I go."

Hardcover book with dust jacket, full color illustrations, 36 pages
Appropriate for both children and adults.
A beautiful, calming and comforting book for anyone grieving the loss of an animal or person.
~ Ideal for gift giving ~

You may also enjoy Teresa's teleclass, The Animals' Perspectives of Death, The Other Side and Coming Back which is available for free with your purchase of this book. See below.


Save
Recently Viewed Products