Tibet Prayer Flag Set for Whales and Dolphins
Description
Inspired by the Tibet prayer flag practice, these hand made flags can serve as a focus of continual prayer for whales and dolphins. They are also exquisite works of art that bring visual pleasure to our homes and gardens.

The stunning set of 7 prayer flags features (left to right) spinner dolphins, bottlenose dolphins, humpback whales, pilot whale, pygmy killer whales, and striped dolphins. Lovely batik art work, hand painted on rayon with beautiful, vivid colors. Made in Bali in small, family run shops. The images of these whales and dolphins are absolutely gorgeous in person. The photos do not do them justice.
A tradition associated with the Tibet prayer flag is to hang them with conscious intention for blessings and prayers to reach all those in need--in this case for the whales and dolphins. Often called "prayers on the wind" or "blessings on the wind," it is believed that as they wave in the the wind, prayer flags lift up and carry our positive thoughts and prayers around the world. Every time we gaze at these flags, it is good practice to send more prayerful intention for the needs of the whales and dolphins--perhaps for protection, safety, freedom, health, joy, peace and love.
Hung inside or out, prayer flags are more than beautiful art. They can be a powerful part of our spiritual practice. As we pray for others, it brings the opportunity for our own hearts to open more fully, to become more compassionate, calm and peaceful. A peaceful world for the whales can only happen with human help. Please pray for them and do what you can to help them.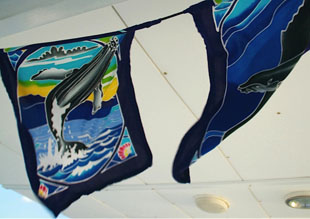 7 flags sewn on a string, each 13" wide. Tallest is 20" tall, shortest is 13" tall. Span of flags is approximately 8 feet wide, with ample string extending beyond that for hanging. Ready to hang inside or out.

Photo Info:
Top left: Flags flying in front of Teresa Wagner's Big Sur, CA log cabin home.

Top right: Flags hung inside the Turks and Caicos Explorer II dive boat in Silver Bank, during our 2011 trip to swim with the humpbacks

Middle left: These flags are being hung by Joanna Barclay at the house of Élise Pouliot, who's been swimming with her beloved friends the Silver Bank humpbacks since 2000. Her summer house is on a lake shore, in Québec, at the entrance of the Mauricie National Park.

Middle right: Flags hung inside the Jasmine Spa near Puerto Plata, Dominican Republic

Last image: Flags flying briskly in the wind on the deck of the Turks and Caicos Explorer II.

You may also be interested in our Tibet Prayer Single Flag of a mother whale and one of a breaching whale.
Recently Viewed Products