Meaningful Pet Condolences Gift: Pet Prayer Flags
Description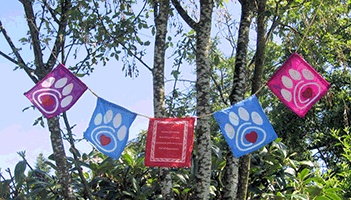 Pet Prayer Flags
1 set of 5 flags
Each flag measures 5 1/4 inches X 6 1/4 inches
String of flags is 58 inches long
When I first saw these flags I cried happy tears. To see the Tibetan tradition of prayer flags created just for animal companions who have died touched me deeply. I knew I wanted to make them available to many people. They are beautiful hung either outside or inside the home, creating a sacred focus to honor our beloved animals who have gone before us. They also serve as an ideal pet condolences gift.
They are made by a couple who deeply loved and grieved their dog who died from cancer. As they struggled with their own grief, they wanted to create something lasting and meaningful to memorialize their dog and their life together. They said, "We wanted something dynamic, not static like cards of pet condolences or fleeting as a bouquet of flowers. We loved the simplicity and connection that Tibetans believed their prayer flags offered and so we designed our Pet Prayer Flags in the hope that our thoughts still reach him and that perhaps others will benefit from that same sense of infinite connection."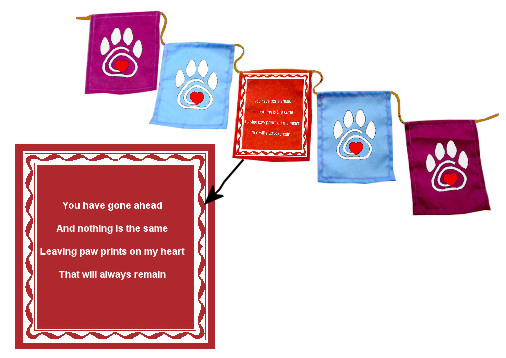 Tibetans believe that when we gaze at prayer flags and state our prayers for others, these prayers are sent on and on through the wind to the heavens, connecting our prayers to our loved ones.
Prayer flags are more than beautiful art. They can be a powerful part of our spiritual practice. As we pray for others, it brings the opportunity for our own hearts to open more fully, to become more compassionate, calm and peaceful. A peaceful world begins in the hearts of every individual. May these flags bring peace to the hearts of all who grieve their beloved animals.
You may want to view our pet loss memorial candle which can also serve as a sacred memorial for our own animals or as meaningful pet condolences gift for others.
Save
Save
Recently Viewed Products