Whale Fluke Pendant in Bronze
Description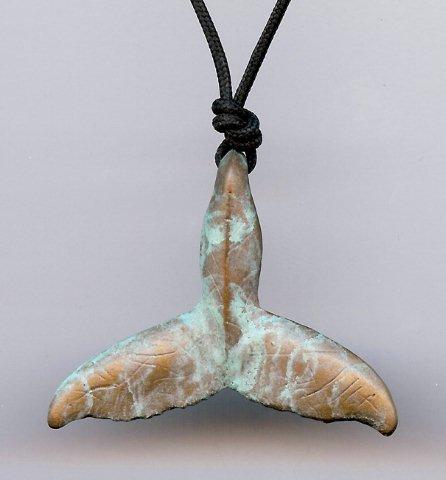 REDUCED FROM $42.50 until inventory is depleted.

These whale fluke pendants are truly beautiful works of art. Cast in bronze with a verdigris patina, each piece is handmade and unique. I adore whale jewelry and am always on the lookout for artistic representations of these magnificent beings of the sea. When I found this jewelry line of wildlife in bronze castings I was smitten. They are far more exquisite in person than in this images!

From the artist: "Each carving has been carefully molded to obtain the wax models for casting. I use the same silicon bronze that foundries use for large sculpture. The earth tone of the metal is enhanced with a wide range of patinas that hue it, creating colors usually only associated with the larger bronzes. There are variations with each pice in patina coloring as every casting is individually finished."

The black fabric cord, which is included and is adjustable from 18 - 36 inches, provides a look suitable for both men or women.

Each pendant is packaged in an aqua gift box.
Size: 1 inch wide by 1 inch tall
Save
Recently Viewed Products