Guided Journal for use on Spiritual Whale & Dolphin Journeys
Description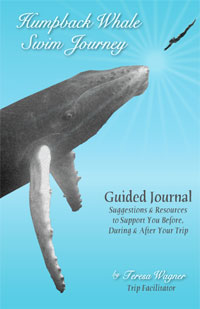 Guided Journal for use on Whale and Dolphin Journeys
5.5 inches x 8.5 inches; 144 pages
Spiral bound for flat, easy writing
Laminated for protection on boat decks

Since 1999, I have been taking people on journeys to swim with humpback whales and dolphins. Most of us embark on these journeys for the exquisite intimacy that occurs when in the water with these magnificent cetaceans. One of the things I've learned while facilitating these trips is that along with the intimacy and joy, such spiritual journeys and pilgrimages can be quite intense--physically, emotionally and spiritually. If we don't pay attention to and process what's happening within us and around us, we risk both losing some of the deepest gifts of the experience, as well as returning home perhaps feeling overwhelmed, confused, depleted or ungrounded.

This guided journal was written to help us notice and be present with ourselves as we experience every aspect of such journeys: the physicality of the experience itself; our emotional reactions to the experience; how we can take care of ourselves both physically and emotionally; the mundane and not always fun part of learning to live in a small community of people who may be strangers; and the sweeping spiritual transformation that often occurs from being with these wise and loving beings and from the entirety of the experience.

It is designed to support us as we prepare for our journeys, while we are actually there, and to help us to integrate our learnings and experiences as we "re-enter" our worlds back home.

The journal is paginated and divided into the three phases of before, during and after our journeys, includes questions to ponder and write about, inspiring quotes, suggestions and issues to consider, and many additional blank pages per section and in the back. There is also an addendum of flower essence suggestions and descriptions to support each phase of your trip experiences.

Though the journal was originally written for my own trip participants, it is relevant to and can be highly supportive for anyone embarking on any experience with whales or dolphins or other spiritual journeys or pilgrimages.
May it serve you, and may you have splendid experiences on your journeys!
~Spiritual pilgrimages are not expeditions for the ego, but journeys for the soul~


Table of Contents

Before the Trip:
How might I best prepare?
Questions to Ponder
Quotes to Inspire
Suggestions & Issues to Consider


During the Trip:
How might I be truly present andsavor every exquisite moment?
Questions to Ponder
Quotes to Inspire
Suggestions & Issues to Consider


After the Trip:
What things might I consider for my "re-entry" back home?
Questions to Ponder
Quotes to Inspire
Suggestions & Issues to Consider


Addendum:
Flower Essences to Support Your Trip Experience

Additional Blank Pages

Recently Viewed Products