Animals in Spirit: Journey of Animal Souls
Description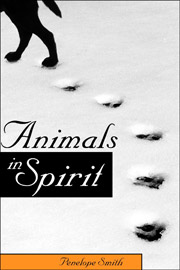 How do we say goodbye when it's time for our beloved animal companions to pass? Where do animal souls go when they leave Earth, and how can we do we help them transition to the other side?

In her newest book, the pioneer of the animal communication field Penelope Smith helps us explore and transform the often traumatic experience of losing a cherished animal into a positive, uplifting experience for animals as well as their humans. With true stories and insights from people and their animals about dying, death, and beyond, readers will learn how to remain connected to their beloved animals in spirit.

Informative and comforting, Animals in Spirit shares the process of dying from animals' viewpoints. You will learn:


• How animal souls choose their paths in life and death

• How animals feel about crossing over
• How we can contact animals in spirit

• What happens after animals leave this world

• The messages departed animals have for us

• Reincarnation—meeting animal friends from life to life.

Includes a chapter on whales' messages about death from Teresa Wagner.

All people who care for animals must face their companions' deaths. Animals in Spirit is a powerful and practical guide that shows us how to help animals make their transition, while strengthening ourselves by feeling their presence deeper in our hearts as we learn to accept and understand the full experience.

You may also be interested in Teresa's on demand teleclass with dozens of stories about animal souls after death, which is free with the purchase of this book. See below.