Animals and the Afterlife
Description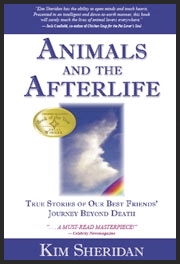 This book about animals' afterlife is a treasure. When we are in the midst of grief, it is common to feel alone with our pain and our questions about death. The contribution of this book is the sharing of 400 pages of stories of people who lost their animals and had many experiences on on-going connection with them after death.
Author Kim Sheridan is also a devoted, compassionate guardian of animals including standing up for the welfare of all species. This book, her on-going work, and her heart are great gifts to the animals on earth.
I've recommended this book to many, many clients over the years who continue to rave about it—how the true stories bring greater understanding and reassurance about life after death for animals and comfort to their hearts at the time of loss of their pets. I hope it will do the same for you.

From the publisher:
Do animals have souls? What happens when they die? This subject has been the author's lifelong passion, and she has made it her personal quest to find the answers. Kim Sheridan grew up with animals as her constant companions. Each time she faced the death of a beloved animal, along with the pain came the same questions, to which she could find no answers. Then, mysterious things began to happen which she could not explain. Unable to dismiss these mysterious events, Kim embarked upon what became an incredible journey to uncover the truth. Along with her own experiences, she compiled the extraordinary experiences of ordinary people from around the world. She discovered overwhelming evidence that forever erased her own doubts of an afterlife for animals.
You may also be interested in hearing dozens more stories in Teresa's on demand teleclass about animals afterlife.
REVIEWS:
I have read many books on pet loss, and this is one I return to again and again. The stories make me know I am not alone, and give me hope for what is possible. It is so comforting! ~ Sheila, Kansas
Recently Viewed Products