Workshops & Events
Location

Most events are held at the beautiful Cypress Inn in Carmel-by-the-Sea, California—Carmel's premier pet friendly hotel owned by animal lover and celebrity Doris Day. Our meeting room is intimate, quiet and away from other hotel activities and noise. The entire facility is extremely pet friendly—the lobby, lounges, restaurants, lodging rooms, and, of course, our meeting room. The Cypress Inn is a short walk to the beautiful, dog friendly Carmel Beach, and steps away from restaurants. Directly across the street is our area's exquisite gem and crystal shop, Nature's Bounty. Also across the street is a church with a stained glassed window of St. Francis with a wolf and birds. There are also courtyard gardens for meditation and communing with flowers and plants.
Weather and What to Wear
Our average year round temperate climate is a comfortable 65 degrees. In the winter months it is closer to 55-60 degrees, and in the summer closer to 70 degrees (and sometimes higher). However, in every season it is considerably cooler in the mornings and evenings than it is during the afternoon. Be sure to bring a light jacket in the warmer months, and a heavier jacket in the winter months. Dress for the workshops is casual and comfortable!
How to Get There
Air Travel
San Jose International Airport: about an hour and one half drive
San Francisco International Airport: about two hour drive
Shuttle service to Asilomar from both San Jose and San Francisco airports:
Monterey Peninsula Airport: about 10 minutes away
Car rentals are available at all three airports.
Driving directions are provided in post registration materials.
Lodging
In addition to the rooms available at the workshop site, the Cypress Inn, there are many, many inns, bed and breakfasts, and hotels available in the area, ranging from five stars to inexpensive Motel 8's and camping.
Highly Recommended Local Attractions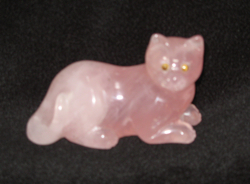 Nature's Bounty By The Sea: This is the premier crystal and gem shop in the Carmel area. They carry everything from small tumbled stones to magnificent museum quality pieces. The rose quartz cat is a sample of the many pieces I've purchased here which I treasure. They almost always have stones and sculptures in animal shapes in stock. The owners are genuinely kind, lovely friendly people who welcome browsers and purchases at every level. Conveniently, it is directly across the stree from the Cypress Inn. If you shop at just one place in Carmel, this should be it! If you are looking for something in particular, they welcome custom orders, so feel free to contact them before your visit to Carmel.
Point Lobos: Often called the greatest meeting of land and sea on the earth, and the crown jewel of the California State Park system, Point Lobos is a magical, beautiful, sacred spot on earth. It is where I go to pray and to come back to myself. It's where I talk to the whales. If you love nature, if you find yourself centered and regenerated in nature's energy, then you should visit Point Lobos. If there is just one place you visit, this is my recommendation! It includes ten miles of hiking and walking trails in the forest and by the sea. On Highway One South just past Carmel. About 20 minutes from Asilomar.
Whale watching: Mid January is prime whale watching season for the gray whale migration, and the summer and early fall months are good to see humpbacks. Naturalists are on board the whale watch boats which have daily trips from Fisherman's Wharf in Monterey. Contact Monterey Bay Whale Watch at www.gowhales.com or 831-375-4658.
Kayaking: I recommend Monterey Bay Kayaks where I've taken lessons and where I rent kayaks. Rentals include a thorough orientation and wet suit. It's about $30 for an entire half day. It's a wonderful, exhilarating way to be with otters, harbor seals and sea lions up close. And during the whale migration, who knows, you may see a whales. www.monereybaykayaks.com 800-649-5357 or 831-373-5357.
Big Sur: If you've never driven down Highway One to Big Sur this might be a great time to do it. It is a breathtaking and astonishing beautiful place. There are four state parks at which to stop and hike and take in the scenery. The most magical places to me are the redwood forest and ocean waterfall in Julie Pfeiffer Burns State Park and Nepenthe restaurant.