How Animal Communication Can Help in Times of Illness, Death, Grieving and After Death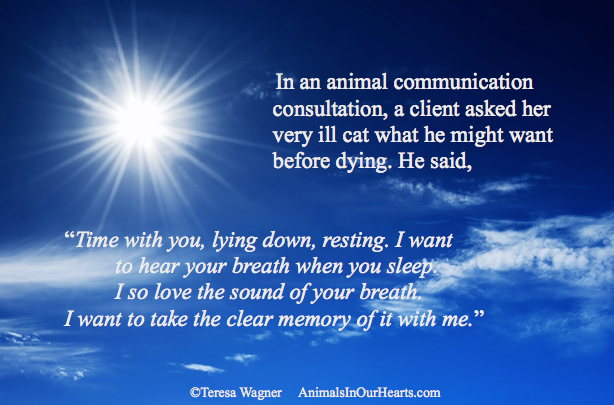 LENGTH:

A two part teleclass, four total hours

OFFERED
ON-DEMAND
or LIVE?

Live Teleclass August 12 and 19, 2017
Offered On-Demand by August 21, 2017

COST:

$99 includes:
• Approximately 4 1/2 hours of digital audio recording
• Approximately 40 pages of detailed handouts
• A free copy of the 74-minute CD MP3: Connecting With Your Animal After Death

REGISTER/
PURCHASE:

To register, click here
This class is one of many in the Pet Loss Grief Counseling Training and Certification Program. Those working toward certification in the program may use the credit from this class as a required or elective class.

INSTRUCTOR:

Teresa Wagner, M.S.

WHO SHOULD ATTEND:

This class is suitable for both anyone who wants to help their own beloved animal, and for professionals who work with animals to explore the benefits of using telepathic animal communication as a powerful resource to support animals when they are ill, near end-of-life, after death and as a support when grieving.


Practitioners such as pet loss grief counselors, pet loss support group facilitators, therapists, healing arts practitioners who work with animals (and grieving humans), veterinary professionals, animal shelter and rescue group staff and volunteers, animal trainers and behaviorists, etc., will be able to better understand what animal communication is and how it may help their clients.
CONTENT AND PURPOSE
Learning that our animals are seriously ill or near end-of-life can begin a period of great challenge. We may be scared, confused, overwhelmed, become paralyzed by shock or bury ourselves in research about medical options—all of which is normal. It is hard to remain centered and present during such times.

Though animal communication is not a panacea that can cure illness or make the loss of our animal loved ones emotionally painless, it does hold tremendous potential to make these times with our animals more informed, more intimate, filled with more meaning than fear, and consciously sacred. Talking with our animals can bring us clarity about how they feel, both psychically and emotionally; help us learn what they want; prepare them for treatments and procedures; get answers to questions; end confusion; calm overwhelm and bring the energy of grace to what can one of the most difficult experiences of our lives.
In this two session teleclass, the following will be covered:
SESSION ONE: Presentation with Questions and Answers
The #1 benefit of using animal communication during illness and end-of-life
Defining and understanding what animal communication really is:
Three windows of understanding animals
What telepathic animal communication is and isn't
Critical difference between a one-way psychic reading about an animal
and an interactive conversation with an animal
Filters and projections
Information from above and below the water line
How it can help during illness
How it can help during hospice
How it can help after death
How it can help with grief: for humans and/or animals who are mourning

How it can help with reincarnation reunions
Further resources


SESSION TWO: Panel Discussion—Stories Directly From People Who Have Used Animal Communication During Times of Illness, Before Death, Grief and After Death
A group of several clients will describe their stories covering the following issues and field questions from participants in the class
Partnering with one's animal during illness regarding treatment decisions, comfort needs, quality of life needs
Knowing "when it was time"
How communicating with our animals can help with grief and emotional completion
Assisting other animals in the family deal to with their grief, and with newly adopted animals after an animal dies
Discussion and planning regarding reincarnation reunions
FURTHER RESOURCES: Classes, books, flower essences
You may also find support in Teresa's articles on dealing with the death of a pet.
Important Disclaimer: When Not to Use Animal Communication

Animal communication should never be used a substitute for veterinary care. Animal communication can help us gain information about our animals' perspective of their physical health. It can help us get answers to questions about their physical symptoms, i.e., where in their body is the discomfort, is the discomfort shooting pain or more like an ache, is it chronic or situational? Though this type of information can assist with veterinary care, animal communication should never, ever be used instead of medical diagnosis or medical care. If your animal is physically ill, seek veterinary medical care.
Save
Save
Save
Save
Save
Save
Save
Save
Save
Save
Save
Save
Save
Save
Save
Save
Save
Save
Save
Save
Save
Save
Save
Save
Save
Save
Save
Save
Save
Save
Save
Save
Save
Save
Save
Save
Save
Save
Save
Save
Save
Save
Save
Save
Save
Save
Save
Recently Viewed Products