Workshops & Events
Grief Support Skills:
How to Effectively Support Others Who Grieve the Loss of a Pet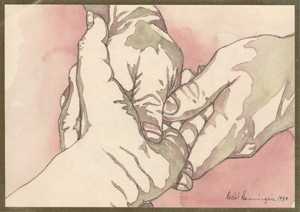 image copyright Rachel Hemmingson
used with permission and gratitude
LENGTH:

8 hour Teleclass (four sessions of 2 hours each)



DATES:
Available On Demand to take at your convenience

COST:

$85 for 8 hours of digital audio recording and 89 pages of handouts.
A bonus inclusion is the audio book Legacies of Love

REGISTER/
PURCHASE

Click here to purchase

This is a core required class in the Animal Loss and Grief Support Professional Program of Study.

INSTRUCTOR:

Teresa Wagner, M.S.

WHO SHOULD ATTEND:

For some people, losing a beloved animal is one the most painful experiences of their lives. When we are attempting to help those who are struggling with the pain of grieving such a loss, it can be challenging to know whether we are saying or doing the most effective and supportive things.

This class is designed to help you build, refresh or reaffirm your abilities to effectively support others who grieve the loss of an animal loved one--to help them through their pain and healing process with both tender compassion and the use of specific skills. The class is appropriate for anyone who is exposed to people grieving the loss of their animals: animal communicators, veterinary professionals, animal shelter and rescue group workers, trainers and behaviorists, therapists, energy healers, as well as friends and family members who want to better support their loved ones who are grieving.



Read comments from past participants at end of this page.
Empathy is the language
of the heart.
In grief support, it is the spoken expression of compassion.
Compassion and love alone do not heal if helpers lack empathic inquiry into the client's story and heart, and merely impose tools and beliefs of their own.
It is the skillful expression of empathy, along with compassion, love and tools offered in right timing, that create a haven of safety and understanding for another's heart fo heal and emerge in wholeness.
CONTENT AND PURPOSE

In this four session class you will have an opportunity to:

Learn how to care for yourself with energetic boundaries and protection, and raise your awareness of the ethics involved in providing grief support
Understand grief from both a personal and an intellectual level
Learn the core grief support skills of empathic inquiry and response, the appropriate use of self disclosure and spirituality when supporting grievers, the important dynamics of primary and secondary grievers, and specific do's and don'ts known to help those who grieve
Acquire access to a wide range of resources for both your own continuing learning and to pass onto clients
Effectively and lovingly offering support to someone through the challenge of grief can make a huge, positive difference in that person's healing journey. But learning how to effectively help others who grieve the loss of a pet requires far more than feeling sympathy. It also requires specific skills. When another being truly cares, understands, and acknowledges the depth of our loss, our path is lighter. When the truth of a painful and difficult loss is acknowledged, we know we are not alone. When we are understood, healing feels much more possible. Almost anyone seeing another in emotional pain wants to help. Yet, seeing or hearing someone in great anguish can also be overwhelming and intimidating. We may feel awkward or unsure about what to say or do. Sometimes in attempts to help, friends, family and even professional counselors, healers or authors impose their beliefs, thinking that their own paradigms of animal death and grief will be relevant and helpful to everyone. For grievers, this intentional or unconscious imposing gets in the way of them discovering for themselves what they believe or need, and what will work for them. It also often adds anger and frustration to an already stressful time of grief.
The most empowering things we can do to help grievers is to learn to be truly present with their suffering: to listen, not advise; to judiciously and gently suggest possibilities, not impose our beliefs as fact--and to do so only after offering enough empathy that it is clear to them that we understand and have listened to their story and their thought and feelings; to be with them as they find their own way, not judge, push or prod them in the way we think they should grow. To be truly present with someone's pain without feeling a need to fix it, reconcile it, or recoil from it is one of the most powerful gifts we can give another. It requires patience, discernment of what to say when, skills of empathic expression, and great respect for the wisdom of the other's soul. These delicate and subtle grief support skills can be learned and integrated into our practices as animal communicators, healers, veterinary professionals, shelter professionals and others who are with those who lose their beloved animals. This four session teleclass offers an introduction to these skills and ideas as well as an overview of the grief recovery process.
SESSION 1:
Understanding energetic boundaries and energetic protection
Why they important when working with people and animals in pain
A chakra perspective of these issues
Levels of Compassionate Response to Others' Pain
The Whale's Lesson on Death
Specific techniques and strategies to practice energetic protection
SESSION 2:
Definitions of Loss, Grief, and Grief Healing
Why Animal Loss is Different
Personal Understanding of Grief:

Intimate Self Awareness of our Motivation to Help and our Orientation as Helpers/Healers

Intellectual Understanding of Grief:

Principles of Healing Grief & Choices We Make in Response to Loss
Fators Influencing Grief Responses
Stages of Grief Theories
Beyond Stages: A Model of Conscious Grief Healing:
Proactive Pathways for Coping, Healing and Growing From Loss
Disenfranchised Grief & Complicated Grief
SESSION 3: Core Skills of Grief Support Part I
The Two Golden Rules of Grief Support
Words That Heal: Empathic Inquiry and Response
Defining Empathy: What it is and is not
The Power of Empathic Inquiry: Gentle Questioning for Clarity
The Power of Empathic Response: Active Listening
Emotional Empathy Discrimination Exercises
What is My Grief Support Style: Enmeshed? Empathic & Protected? Detached?
SESSION 4: Core Skills of Grief Support Part II
The Role of Spiritual Beliefs and Paradigms in the Grief Support Process: Helpful or Hindrance?
Appropriate Use of Self Disclosure
Specific Do's and Don'ts Known to Help Grievers
Understanding the Issues of Primary and Secondary Grievers
Personal Integration: What Did I Learn From this Class?
Resources on grief support for additional learning and referral



More classes: The Professional Program on Animal Loss and Grief Support offers a full curriculum of classes--on both helping others understand how to grieve the loss of a pet and healing from our own losses.


COMMENTS FROM PAST PARTICIPANTS

"Teresa did a wonderful job at providing very detailed information in a useable format that I could understand and apply."
Lori W.


"Teresa did a wonderful job of giving us examples of how to be supportive of another and at the same time taking care of our own needs. This was thought provoking, deep, engaging, and encouraging. I got to know myself better as well as learned new skills to help others. Teresa is obviously very experienced in the area of counseling and in grief support. I couldn't imagine a better teacher!" Anne B.


"I would highly recommend this class for anyone searching for ways to be there for persons going through grief, not just over the loss of their animal." Jan E.


"Teresa was so loving and compassionate in her delivery. A true role model for all of us. I eagerly looked forward to each and every class. " Penny P.


"I feel so much more confident to help someone thru a loss and to deal with some of my own grief I've buried. I would highly recommend this class." Terra K.


"All sessions were extremely enjoyable and informative. It was a privilege to listen to Teresa speak on this subject. Her compassion, empathy, sensitivity and beautiful energy came across vividly, and served to remind me that the most important thing in this work is not the words, tools and techniques used, but the genuine heartfelt caring expressed. Handouts were fabulous! Well presented, and lots of clear, concise, thought-provoking useful info." Pat S.


"This class should be required for life!! Huge amount of wonderful information to help you be a sensitive and loving person for someone who is experience loss. This was one of the best classes I've taken yet. " Penny P.


"I LOVE Teresa, she just makes everything so easy even in a difficult situation. I look forward to more classes of hers."
Dana L.
"Teresa has a fantastic ability to take thought-provoking topics and present them in a straightforward fashion. Her ability to mix humor into her presentation of the mysteries of souls coming to and leaving earth is outstanding! She paces content and delivers it at an appropriate level for all to understand. Responds well to questions posed."
Davidene T