copyright Teresa Wagner 2011


When two animals of different species who are typically prey and predator demonstrate obvious affection for each other, it doesn't just surprise us, it usually melts our hearts. It's such a model for us as humans about what peaceful coexistence can be, about the possibilities that lie within each of us to overcome traditions and expectations of who we are supposed to love, who is supposed to be friend or foe, and to just love.
Such is the case with a dog named Cowboy and his gopher friend Melvina.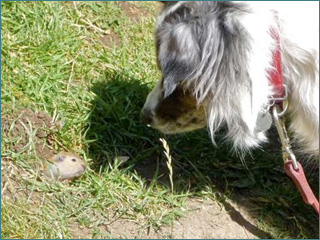 Cowboy's people, Rider and Troy Stauffer of Los Angeles, noticed that on his off leash walks Cowboy had begun to stand quite still looking down at gopher holes. He was not in a state of excitement, not digging or trying to get to the gophers, he would just sit quietly and peacefully looking at the hole. When a gopher raises her head from the hole, Cowboy just stands still and gently and reverently gazes at her. These encounters last anywhere from thirty seconds to twenty minutes. The other interesting thing is that he seems to know just where to find the hole, and, that it is almost always the same gopher, though not always. As Rider describes it, "When he stops at a gopher hole, it's not just that he's quiet and peaceful, he's very focused, still and intense. He doesn't move at all, so much so, that his nose drips little drops of condensation. When you experience it with him, he's super focused and always knows where the gophers are, even if there is no 'apparent' gopher hole, he just stands like a statue and waits. He's so incredibly passionate about his gopher friends."
When we talked with Cowboy about this he said he was "surprised that his humans thought it was a big deal that he and this animal loved each other very much."  He told us that he and this gopher (whom his people named Melvina):

". . .were bunnies together in many lifetimes and we love each other very, very much. She is family. When you come across someone you used to know, someone you loved dearly from the past, it is a sweet filling of the heart to see them again. I love my people and now I also have my old beloved bunny to see and love again in person. It is full circle and it makes me feel even more whole. Just seeing her again is very rewarding. It brings me an acknowledgment of who I am, past to present.  She thinks I'm handsome as a dog and I think she's just beautiful. Sometimes I want to lick Melvina, but I don't want to scare her. What's special about this is not that I don't want to hurt any gopher, what's special is that I am reunited with someone I love so much from the past. This feeling of love is much nicer than the feeling of excitement when chasing other little animals."
In response to the question "What do you and Melvina talk about?" Cowboy respectfully said, "That's private."  This was respected and no further questions regarding this were put forth.
But we did communicate with Melvina who said, "I wish humans liked us as much as Cowboy does. Why do they get so angry when we eat?" 
"It is a miracle we found one another. and pretty awesome to me that as a giant dog he knew me and behaves in such un-dog-like way. I cherish our visits. Cowboy asked me to come and live with him, but it is not safe for me to do this. And, I have my own family here, so we will visit above ground as much as possible. He's beautiful inside and out, with a big loving heart. He was like that when we were rabbits also. I love him very much. My gopher friends did not trust him at all at first. Dogs are usually cruel and violent with us, but they now feel his peacefulness and love, and trust him. Many, many gophers know about him now and talk about him. Sometimes I wish he could temporarily make himself very small and come down here and visit us." 
A special end note to this story is that when Cowboy was recently taken to one of his favorite pet stores an allowed to pick out whatever toy he wanted, out of dozens and dozens of stuffed toys, he picked up a gopher!
The animal communication sessions I was privileged to be part of about the interspecies love between this incredibly special dog and gopher reminded me once again that. . .
It does not matter from whom we learn about love, or with whom we exchange love, only that we love. We need not make narrow, culturally endorsed or forced choices regarding race, gender or species about who to love, or how to love. We must just love.  

The animals sure are mighty teachers about love.
**********
You may also want to
read about
how one of Cowboy's gopher friends, even in his own illness and death, helped me with my own emotional pain over whales being slaughtered. 
To help you communicate more clearly with your own companion animals or wild animals you may want to
listen to
the Animal Communication Guided Meditation, available on CD or download.
Rider Siphron is writing a novel and creating a web site, Stealth Fairy, with creations for animals, children and adults. Stay tuned! I will be sure to announce her creations!